Summer Time Shaymin
From PokéHeroes Wiki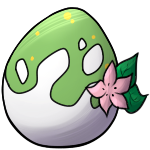 "Shaymin is back in Emera Town and wants to make kind-hearted trainers a very special gift from 28/July/2016 to 04/Sep/2016. Start interacting in order to have a chance to get one of these strongly limited presents."
The first ever Summer Time Shaymin event was held back in 2013 - The legendary Pokémon Shaymin visited Emera Town for the whole summer and generously gave out presents to trainers. The event was then repeated in 2014, 2015, 2016, 2017, 2019, 2020 and 2022 and Shaymin came back with even more limited gifts.
Shaymin is a annual event usually held for the whole month of August or September.
Meeting Shaymin
In order to meet and obtain Shaymin, users had to interact. There is no set interaction requirement - it will appear randomly after doing interactions. For some users this will take a few hundred or thousand although the number of interactions can be much more than that. When Shaymin wants to meet you, a small icon

pops up in your Userbar.
It is not possible to have multiple Shaymin in your User bar at the same time. You have to accept Shaymin's gift in order to meet it again, meaning it will stay on your Userbar until you accept one of it's four gifts.
Shaymin's Gifts
This year, Shaymin will be back with
four
gifts. A
Shaymin
egg, a
Shaysola
egg, a
Gracidea
, which is used to change
Shaymin
into it's Sky Form, and a Shaymin Plushie. Users can only pick one of these four gifts each time they encounter Shaymin.
As of 2016, players have a 20% chance to obtain a Shiny Shaymin Plushie upon encountering a Shaymin. The shiny version of the plushie will appear as the gift instead of the standard version before claiming.
As of 2017, Shaymin introduced a new Event Pokémon, Shaysola as one of its gifts.
As of 2021, players had a higher chance of randomly hatching a Shiny Shaymin. In addition to that, Corsola (Retro) Eggs could be obtained in Sky Gifts.
As of 2022, players were able to incease their shiny chance by choosing the Shaymin Plushie instead of an egg. The chances reset after adopting a Shaymin egg.
Note: The Shaymin & Shaysola egg will not break your shiny chain, and it is placed directly into your party if you have a free space.
Sky Gifts
Aside from obtaining a Shaymin, users are also able to send other users Sky Gifts. Each Sky Gift you send to a user will contain some sort of gift/item. The gifts which can be obtainable from Sky Gifts are:
Three gifts can be sent to anyone every day at the cost of some
Pokédollars. If you have sent 3 gifts already, further gifts will require nuggets, x10
Nuggets for every further gift. Gift costs reset to their initial cost daily.
Along with sending a Sky Gift to someone, you are also able to type in a message which the other user may read, which is completely optional. When sending a gift, you can choose whether you want it to be anonymous or not.
Every player can only receive a maximum of 21 Sky Gifts every day! This counter will reset daily also.