Template:LatestNews
From PokéHeroes Wiki
Valentine's Event
Send lovely cards

The day of Love and the day of Forever alone are near! Luckily, no one is alone on PokéHeroes - as every year we are celebrating our own Valentine's Event with lots of lovely cards, some chocolate and obviously a new Event Pokémon!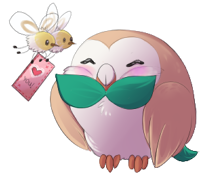 Until February 14th, you can collect Sweet Hearts by showing love to your Pokémon (interacting) and by buying fluffy Dream World Plushies for your friends. The collected Sweet Hearts can then be used to buy Valentine's Cards. Everyone who sends out a card to at least three different players will receive a brandnew Event Pokémon on February 15th!
And as a special bonus: The more cards you send out, the higher is your chance to receive a Shiny Event!
VALENTINE'S EVENT