Ravenswing
From PokéHeroes Wiki
Ravenswing
"Hey everyone! Ravenswing here. Feel free to Pal Pad or Private Message me your questions or concerns about PokeHeroes in English or Spanish. I am a parent of 2 teens, 2 dogs and a cat here on the beautiful West Coast, USA. I love to cook, read & photograph the world as it goes by"
---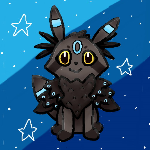 Profile Link:
Ravenswing
Position(s): Moderator
Nickname(s): Raven
Location: Oregon - West Coast US
Birthday: 29 May 1971 < yes, i am almost 50!
Gender:

Language(s): English, Spanish, Pig Latin :P
Favorite Pokémon:

Shiny Umbreon,

Terrakion,

Yanma,

Sigilyph,

Corviknight (ravens/crows) &

all Pony forms
Favorite PokéHeroes Plushie: Dwebble, Shellder, Lillipup, Mega Audino
Favorite Color: Deep Purple
Favorite Artist(s)/Band(s): My music tastes are very eclectic; I enjoy The Piano Guys, The Greatest Showman soundtrack, Mannheim Steamroller, Air Supply, Journey, 80s Synth Pop, Enya, Native American Flutist R Carlos Nakai, Casting Crowns, Mercy Me, Kutless, Crash Test Dummies, Hootie & the Blowfish... If it elicits emotion.. all the better.
Hobbies: Training dogs, Jigsaw puzzles & match 3 games, travelling (my kids- who are also on PH - were born in England!)
3 Fun Facts About Ravenswing:
-- 1. I have 8 large tattoos and planning more
-- 2. Big fan of footie and powerlifting competitions
-- 3. Autism and LGTBQ+ awareness and support
Favorite Part Of Being a PokéHeroes Staff Member: Getting to know more people, being helpful and ensuring Pokeheroes is a fun, safe, inclusive environment for all