Llorona
From PokéHeroes Wiki
Llorona
"(´。・v・。`) heya! I'm Llorona & I'm the Wiki Manager. I'm delighted to have the opportunity to make the Wiki as helpful & useful as possible for everyone!! If you ever find yourself needing help with anything regarding the site, feel free to shoot me a message and I'll get to it as soon as I can! ♡"
---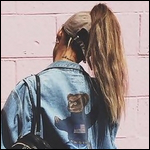 Profile Link:
Llorona
Position(s): Wiki Manager
Nickname(s): Mal with multiple variations (Malu, Malo, Mally, etc.)
Location: Florida
Birthday: 18 February 2000
Gender:

Language(s): English. Currently in the process of learning Korean & Spanish.
Favorite Pokémon:

Eevee,

Dragonite,

Torracat
Favorite PokéHeroes Plushie: Bewear, Torracat, Druddigon
Favorite Color: Any pastel colors are super cute tbh, though specfically pastel yellow. 💛
Favorite Artist(s)/Band(s): Ariana Grande & BLACKPINK are my top two favorites. Rina Sawayama, Samia, Doja Cat, Lana Del Rey, Harry Styles, The Weeknd are amongst a few of my (many) others.
Hobbies: Playing Video Games, Binge-watching TV Shows, Writing & Rollerskating!
3 Fun Facts About Llorona:
-- 1. I currently have fourteen (14) tattoos, including the kanji for Eevee on my arm and I have plans for many many more, including an actual Eevee above the kanji for it.
-- 2. I've been fixing Premium Banners since before I became a Staff Member and I've made the new Staff Banners since Abby, the user who introduced me to PokeHeroes, retired.
-- 3. In addition to working on PokeHeroes, I'm also a moderator on the Ariana Grande Discord Server.
Favorite Part Of Being a PokéHeroes Staff Member: Not only helping people when they need it, but being able to provide the userbase with both a reliable help source as well as some cute Premium and Staff Banners to look at :p