Giltine13
From PokéHeroes Wiki
Giltine13
"Haya!! I'm Giltine and I'll be providing you with more gorgeous event pokes alongside the other staff. I'm quite friendly, so feel free to chat me up whenever, especially if you got some ideas to toss around~"
---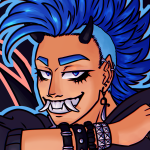 Profile Link:
Giltine13
Position(s): Spriter
Nickname(s): Giltine, Reaper
Location: Lithuania
Birthday: 25 March
Gender:

Language(s): Lithuanian, English
Favorite Pokémon:

HOUNDOOM!!!

Yveltal,

Midnight Lycanroc,

Lowkey Toxtricity,

Croconaw!
Favorite PokéHeroes Plushie: Croconaw<3
Favorite Color: Red, Blue and Black!!
Favorite Artist(s)/Band(s): I'm too embarrassed of my music taste to share those, pffft
Hobbies: Drawing!!! It's the best thing ever and I have no idea what I'd do without it! I also enjoy RPing, worldbuilding and creating stories... Idk if I have any other hobbies XD
3 Fun Facts About Giltine13:
-- 1. While I mostly only post my digital artwork, I actually sketch a lot too, and recently got into alcoholic markers. I do a little bit of animating and spriting, sometimes beading. I really adore so many mediums of art.
-- 2. I'm kinda cowardly and have a hard time initiating conversations and meeting new people, but I'm an absolute chatter box that doesn't know when to shut up.
-- 3. I really dig the whole punk/rebel aesthetic, idk it just speaks to my heart like no other.
Favorite Part Of Being a PokéHeroes Staff Member: Getting positive feedback from the community! Nothing makes me happier than seeing the work I do bring joy to others!